Fast Action Can Save Important Documents with Water Damage
6/18/2022 (Permalink)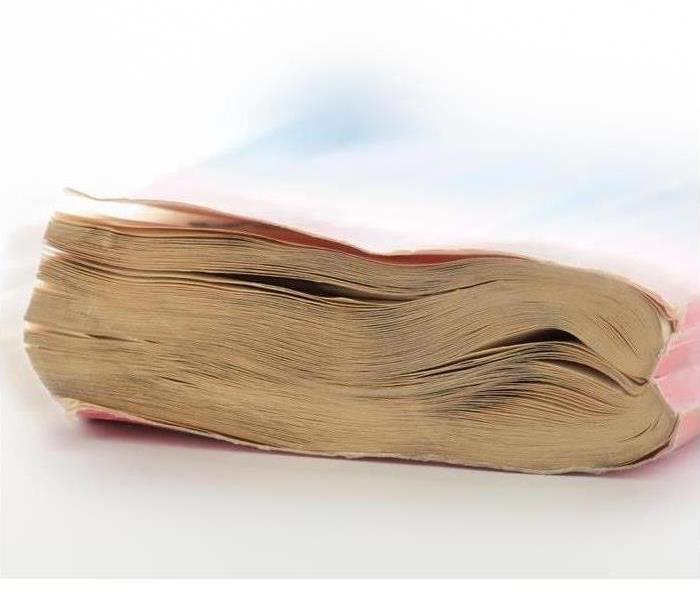 SERVPRO of Alexander, Burke, Caldwell and Catawba Counties has the ability to stabilize and reserve your wet documents!
Whether it affects your home or business, water damage can leave a soggy mess behind. Paper files, documents, books, photographs, and paper-based artworks can be ruined if quick action is not taken. Fortunately, SERVPRO of Alexander and Caldwell Counties can immediately respond to your call and begin the process of preserving and stabilizing all of your irreplaceable papers.
Freezing Your Documents
If you have wet documents, your first step should be to freeze them. The most important thing to understand about wet papers is that no damage can be undone; they can only be stabilized and preserved. By immediately placing them in a freezer, you're stabilizing the documents and preventing additional damage until they can be dried. If you don't have access to a large enough freezer space, let our team know upon initial contact so they can make arrangements.

Saving Your Documents: The Vacuum Freeze Drying Process
There are a few ways you can attempt to dry and save your documents, but as of now, the most efficient method is by vacuum freeze drying them. (Other processes can leave your documents brittle or in an otherwise less-stable condition.) As a SERVPRO franchise, we have access to such a chamber at our corporate headquarters, which is monitored 24/7 and is staffed by HIPPA Master-certified personnel.
In this chamber, your documents will undergo a process known as sublimation to achieve dryness without returning the water to its liquid stage; this ultimately prevents additional deterioration. In the event that the documents are contaminated or odorous, the Document Restoration Team can address those issues as well!
Managing Expectations
It's important to remember that no matter how much our team might try, it's impossible to fully restore a document back to its original condition. If ink smears or the paper has started to warp, those effects will last even after the drying process. We aim to return them in a usable condition, not necessarily pristine. That's why it's imperative that you freeze your wet documents as soon as possible—to mitigate the lasting effects.
Your Document Drying Solution in Hickory, NC, and Newton, NC
If you reside or work in Hickory or the surrounding areas, you need a disaster restoration team you can trust. Fortunately, our local team at SERVPRO of Alexander, Burke, Caldwell and Catawba Counties has 10 years of experience restoring homes and businesses after they've suffered from a disaster. So if you have wet or otherwise-damaged documents you need to preserve, call us now at (828) 396-1070!